What's the Difference: Final Cut Pro vs iMovie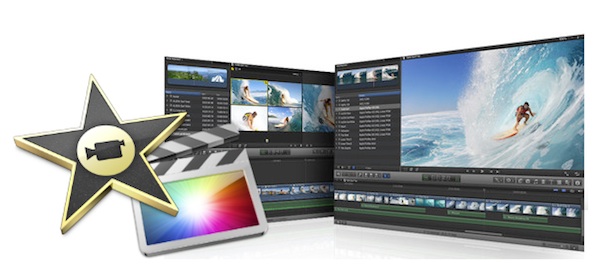 There are too many Mac users who like creating some own home multimedia projects would meet a same problem: which program is better to edit video? iMovie or Final Cut Pro? It is also possible that you may have been using iMovie for editing movies but now want to move on to Final Cut Pro.
In the first place, you should give a brief glance to those two programs in order to figure out the major differences between Final Cut Pro and iMovie, and then decide which one is right for you. In this article, tune4mac will review iMovie, Apple's early level video editing program, and Final Cut Pro., their high-end editing program.
Hot Search: iTunes M4V Video to iMovie or Final Cut Pro.
Apple iMovie(Price: $14.99 from AppStore)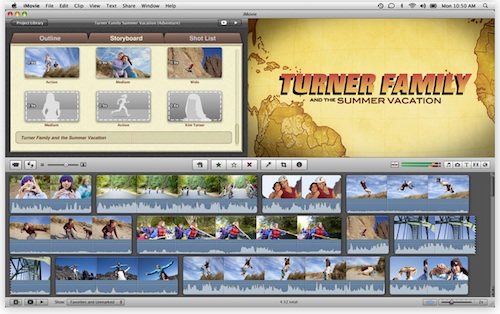 iMovie is part of Apple's iLife suite of multimedia projects. It is geared towards first-time or novice video editors that want to learn the basics of video editing and create their own home movies or videos. In just a few clicks, novice video editors can cut and edit their videos into their favorite films with multiple themes and effects within iMovie.
Some basic features and extras of iMovie are listed below:
• the ability to include video titles
• performs simple transitions between clips and scenes
• exports to a few other popular video formats and devices
• adds photos and edits audio
Apple Final Cut Pro (Price: $299.99 from AppStore)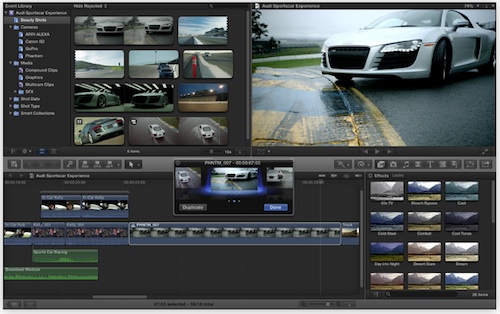 Final Cut Pro is Apple's flagship video editing software and is geared toward video professionals. It offers almost every imaginable feature and option when it comes to video editing software.
Some advanced features of Final Cut Pro are:
• multicam synchronization support
• batch sequence capture
• integration with Apple's other multimedia editing software included in Final Cut Studio
• allows third-party plug-ins
Final Cut Pro vs iMovie
After a brief understanding of Final Cut Pro and iMovie, let's take a look at the major differences between those two video editing programs.
Video Editing

iMovie is a destructive video editing program that works by manipulating video files on hard drive. With iMovie, the changes will be applied directly to the video files. But Final Cut Pro is a nonlinear video editing program that does not change or manipulate the media on hard drive, which means it will make no permanent changes to the media itself.

Video Rendering

iMovie offers a limited number of effects, layers and transitions that can be applied to a video clip. So video rendering is usually performed fairly fast. Because Final Cut Pro allows you to add many effects to the already complex data of the video file. It may not be able to provide live playback of the edited file until it has been completely exported.

Color Correction

iMovie provides simple color correction for you. But if you need to do complex color matching, matching color across different cameras, etc, you'd better choose Final Cut Pro.
Conclusion
If you are looking for a cheaper video editing software that will create simple videos in a few minutes, you should choose iMovie. But if you would like to spend a lot of time to make professional videos and movies, Final Cut Pro is best for you.
More iMovie & FCP Tips
Sometimes, you may need to import iTunes movie collection to iMovie or Final Cut Pro for editing. But you will find that the movie files downloaded from iTunes are not supported by iMovie and FCP. In this case, you are recommended to use Tune4mac iTunes to iMovie/FCP Converter for Mac, which will help you to remove the DRM protection from iTunes movies and import the converted movies into iMovie or Final Cut Pro.
---
Then what? Try Tune4mac iTunes Video Converter Platinum now! To remove the conversion limitation of 1 minute free trial, please purchase the full version ( $69.95 $44.95).
Related articles:

Convert iTunes M4V Guardians of the Galaxy to MP4

Enjoy iTunes Rental Movie - Frozen with Your Kids on iPad Mini

Remove DRM from iTunes Disney Movie Bears

Video Demo: How to Convert M4V to iPad with Tune4mac