Can BlackBerry Play iTunes Files?
Do you Know what Hottest BlackBerry Phones are in 2012
When we talk about smartphone market, we are easy to think of the competition between Apple and Google. However, BlackBerry also take up a big share of USA market. Some Blackphones also get a high comment. Now let's look what hottest Blackberry Phones are recently.

Top 1: BlackBerry Bold 9900: This phones was veiled at Aug. 2011. The appearance is attractive, which adopt all-in-one steel frame and carbon backs. It is also worth saying that BlackBerry Bold 9900 is only 10.5 mm thick. On the operating system side, BlackBerry Bold 9900 comes with a BlackBerry OS 7.1. This OS owns a strong and fast browser.

Top 2: BlackBerry 10 Dev Alpha: Even though this phone has not yet been released, it have already fried in the market fiery. RIM plan to release it in 2012, but there is news report RIM will postpone its time to market. It is possible to release in 2013. BlackBerry 10 Dev Alpha will use the new BlackBerry OS 10 as the operation system. The three concept of BlackBerry OS 10 are Flow, Connect, Extend.

Top 3: BlackBerry Bold 9700: Even though the price is very cheap, the comment is very high. Mainly have 4 highlight: 1. Screen is very beautiful. 2. Automatic backlight, convenient for nighttime operation and automatically becoming light under the sunshine. 3. Comfortable in keyboard operation, the type speed considerable fast. 4. Nice tone quality, the sound is clear.
Can BlackBerry Listen iTunes Music and Watch iTunes Movies
Can BlackBerry listen iTunes Music? Of course, the precondition is that you owns a converter. WHY? That is because the format of iTunes music are not supported by BlackBerry. Generally, iTunes music is DRM protected M4P or free-DRM protected M4A. Only when you convert it to MP3 or some format that BlackBerry supported can it be transferred to BlackBerry to play. As for converter, you can use Tune4Mac M4P Converter.
Screenshot of Tune4Mac M4P Converter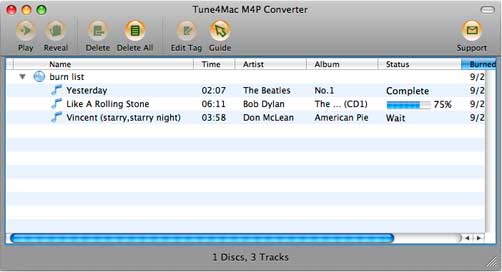 Can BlackBerry watch iTunes Movies? The answer also is positive. In principal, we couldn't put iTunes movies on BlackBerry since iTunes movie is DRM protected M4V movies. So we have no right to copy it to non-apple devices. Here, we recommend you use Tune4Mac iTunes Video Converter Platinum to settle this issue since it can not only put iTunes purchased movies on BlackBerry but also can put iTunes rentals on BlackBerry. For iTunes rentals, you can use it convert M4V to MP4 format, after converting, rental movies can be stored without expiration.
Screenshot of Tune4Mac M4V Converter Plus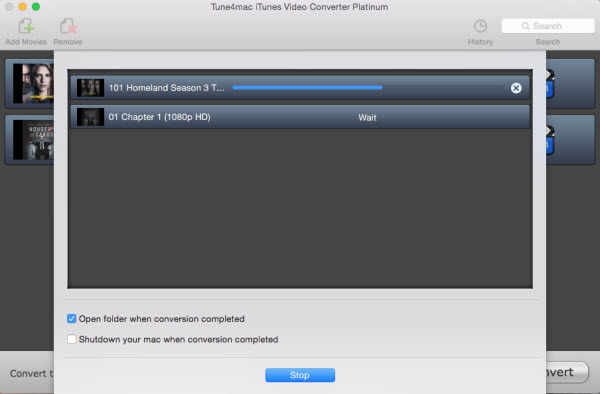 Gossip of BlackBerry
The financial statements of Blackberry on June, 2012 shows historic low record. Subsequently, BlackBerry announced that they will plan to cut 5000 jobs. It said to Cantech Letter that they will mainly cut from CS, HR, Market Department, After-sales Service Department. At present, BlackBerry 10 maybe the last lifesavers of BlackBerry.
Remove DRM from iTunes M4V to MP4 for BlackBerry Torch 9810
---