Microsoft 10.6 Inch Surface Tablet RT & Pro
-How to Watch iTunes Movie on it
Microsoft Surface Tablet Come Out
Microsoft came out with two winpad of Surface series on June 19th, 2012, one is RT which adopts ARM processor and can only run with window 8 application, another is Pro which adopts intel processor and can run all PC application. Surface Tablet was supposed to be the best response to android tablet, Apple iPad, Macbook Air. Form inside to outside, hardware to software, Surface Tablet all designed by Microsoft itself.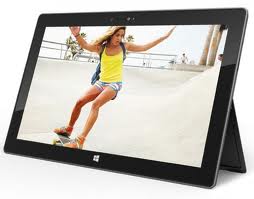 Highlight of Microsoft Surface Tablet
Build-in Kickstand: Surface build-in Kickstand is one different point compared with iPad, Microsoft spent a lot of time on it and emulated the design of Luxury car doors. Surface build-in Kickstand is beautiful and easy to use, a ringing sound will be listened with openning and folding it.
Protective cover: Surface Tablet protective cover is used for touch keyboard protection, which touched like soft rubber and the keyboard will not cave in when pressing it. No like iPad SmartCover, it can't be buckled since it also used for a keyboard. Microsoft said Surface Tablet like a book by the design on the hinge and upper cover and upper cover have many colors.
External Keyboards: Microsoft also provides Touch Cover and Type Cover as external keyboard. Surface Tablet Touch Cover adopt virtual touch press key and provides all kinds of colors, Surface Tablet Type Cover adopt entity button and only provide black color.
Surface Tablet gives us a comfortable experience at the beginning, how about the entertainment experience. All we always neglected is that Apple entertainment sources take up a large share of market, the numbers that rely on iTunes to obtain movies is very large. If people choose to buy Surface Tablet, that must cause a problem, "How to watch iTunes movies on Surface Tablet?" Maybe, your worry is redundant. There is an application Tune4Mac iTunes Video Converter Platinum can solve this issue easily. It is an iTunes video converter which can easily convert iTunes rental and purchased movie to most devices with a high speed and quality.
How to watch iTunes Movie on Surface Tablet with Tune4Mac
1. Download and install Tune4Mac iTunes Video Converter Platinum.
2. Set output format and output path for movies which you want to put into Microsoft Surface Tablet
3. Begin to convert and move converted iTunes movies to Microsoft Surface Tablet with USB after conversion completed.
The advantage of Surface Tablet is that the keyboard makes the office function more facilitated. However the development of Apple iPad is very clear. Certainly, Apple also provide keyboard and other accessories for customer to choose so that it owns some office function in a certain extend. But finally, it is hard to become a easy-use office equipment. If you extend to office function, then Surface Tablet is a good choice.
TOP 5 New Features of iOS Apple WWDC 2012
---
Then what? Try Tune4mac iTunes Video Converter Platinum now! To remove the conversion limitation of 1 minute free trial, please purchase the full version ( $69.95 $44.95).
Related articles:

Steps to transfer iTunes M4V videos to Nexus 7 for playback

How to play iTunes movies on Xbox One?

How to Transfer Your iTunes Movies to Amazon Kindle Fire?

4 Tips to let you watch movies purchased or rented from iTunes on Roku