How to Convert iTunes M4V Guardians of the Galaxy to MP4
Guardians of the Galaxy is the 2014 latest American superhero film released on Friday, Aug. 1, which instantly became a huge hit and got about $37.8 million on first day alone, coming to $94 million for the opening weekend, breaking the b ox office records of American movies.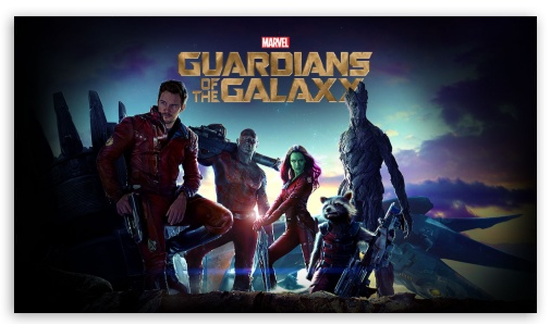 This film features an insolent adventurer Peter Quill who is involved in a bloody fight after stealing a mysterious orb that has been coveted by Ronan, an antagonist with dangerous ambitions and powerful strength that threaten the entire universe for a long time. To escape from Ronan's attack, Quill is forced to a truce with Rocket, Groot, Gamora and Drax. But when Quill discovers its true power, he thinks it is time to reform his ragtag rivals to rescue the galaxy's fate in the balance.
iTunes online store usually provides rental and purchase services of the latest and most popular movies, so also does the best summer blockbuster in 2014—Guardians of the Galaxy, which easily let you access to the wonderful movie on authored iDevices. In other word, if you are holding an Android phone, Windows tablet or game console and attempting to load the M4V video to one of these players, the only thing that would happen is that getting nothing of Guardians of the Galaxy.
DRM protection has always been a standing dish when iTunes customers talking about the user experience, who do not have the say about choosing a desired device to play these already paid iTunes files, whether rental or purchase, which would make them feel unsatisfied inevitably. What is more, there is no any official response of canceling DRM from iTunes M4V videos up till now.
For the moment, the best way to get rid of the annoying iTunes usage restriction is that throwing away the DRM protection and transforming to most compatible MP4 format with some third-party DRM removal software. The following article will show you a tutorial on how to convert 2014 summer blockbuster downloaded from iTunes store- Guardians of the Galaxy Blockbuster, using Tune4mac iTunes DRM Removal as an example, which is a well-reviewed iTunes rental and purchase M4V video converter for Mac (click here to view how to convert iTunes M4V video to unprotected MP4 on Mac OS X Yosemite).
3 Clicks to Convert DRM-Protected M4V Guardians of the Galaxy to MP4 on Mac
---
Click 1: "Add" Tag
After launching Tune4mac M4V Converter Plus on Mac, firstly click "Add" tag to import iTunes rented or purchased Guardians of the Galaxy Blockbuster.
Click 2: "Profile" Icon
When your M4V movie has been listed in the interface, it is time to choose output format for it. Secondly click "Profile" icon to choose "Same as source for mp4" in its drop-down list.
Click 3: "Convert" Button
Everything is ready for the M4V to MP4 conversion, thirdly and lastly click "Convert" button. (Tips, any operation on iTunes during the conversion process is inadvisable to prevent failure of conversion).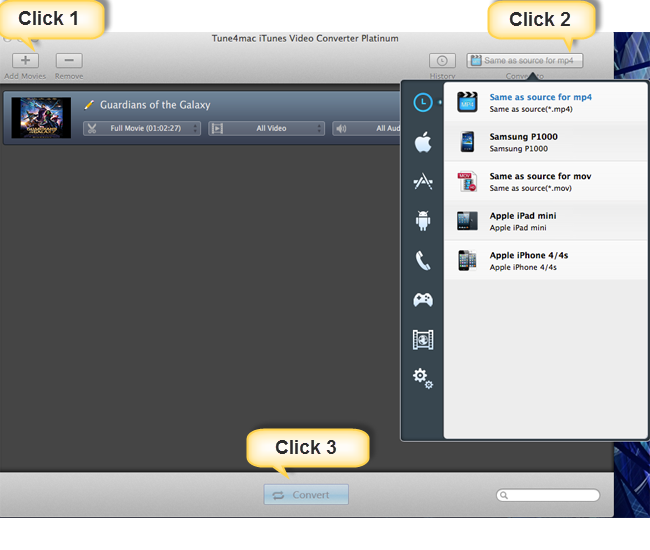 Do not ever feel that iTunes DRM protection is much unbreakable, Tune4mac iTunes Media Converter Platinum is best at clearing up DRM from both rental and purchased iTunes M4V file and converting to common video formats, such as MP4, MOV, AVI, WMV, MPEG, etc. What you want to do now? Freely try Tune4mac iTunes Video Converter Platinum to enjoy DRM unprotected Guardians of the Galaxy right now!
---
Then what? Try Tune4mac iTunes Video Converter Platinum now! To remove the conversion limitation of 1 minute free trial, please purchase the full version ( $69.95 $44.95).
People who viewed this page are also interested in these articles:

Important Things You Need to Know About OS X Yosemite

How to Make iTunes Video Compatible with Sony Xperia Z2

Guide to Stream iTunes Rental and Purchased Videos with Plex

iTunes 11.3- Apple Enhances iTunes Extras to Apple TV 6.2 and iOS 8