How to Play iTunes M4V Videos on Goolge Nexus 6
"Bigger than bigger, thinner than thinner and lighter than lighter" has already become the new normal for current smartphone market. After the releasing of Apple iPhone 6 Plus with 5.5-inch display and Samsung Galaxy Note 4 with 5.7-inch screen, another giant Google unveiled Nexus 6 on Wednesday, serving as the first showcase device to run Android 5.0("Lollipop"). It has already begun for preorder on October 17 and will hit stores in November 3 with price $649 (32GB) and $699 (64GB).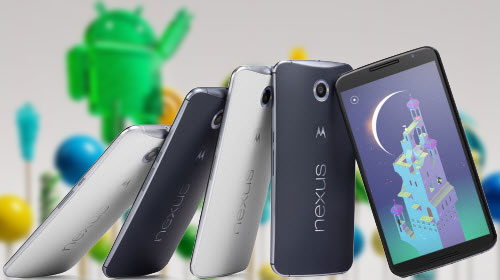 The new phone at 6.27-inch tall, 3.27-inch wide, and 0.4-inch thick with 1,440p resolution and 493ppi makes Google start to compete at "tablet phone" market. Android 5.0, quad HD screen, Snapdragon 805 processor, 13-megapixel camera, and up to 3000-hour standby time are powerful enough to make a splash.
There is little doubt that Google Nexus 6 features the latest and greatest screen and innards. However, Nexus 6 is still far from playing rented or purchased iTunes M4V videos. If you would give up the idea of replacing your hand-held smartphone with new Google Nexus 6, or turn to another Apple iPhones for the defect? If you have Tune4mac iTunes M4V Converter Platinum at hand, you will choose Google Nexus 6 immediately!
How to Transfer iTunes M4V to Google Nexus 6 with Tune4mac Converter
Tune4mac iTunes M4V Converter Platinum is the first DRM-protected M4V media converter perfectly compatible with iTunes 12 on Yosemite to remove DRM protection from rented and purchased M4V videos and convert them to plain video formats like MP4 supported by Nexus 6. (Tips: iTunes M4V Converter Plus Windows would be a appropriate M4V converter for Windows OS users).
Step 1. Add M4V Video from iTunes
After launching Tune4mac iTunes M4V Converter Platinum on Yosemite, you can import available M4V movies, TV shows or other videos from iTunes 12 library by clicking "Add" or "Add Files" button.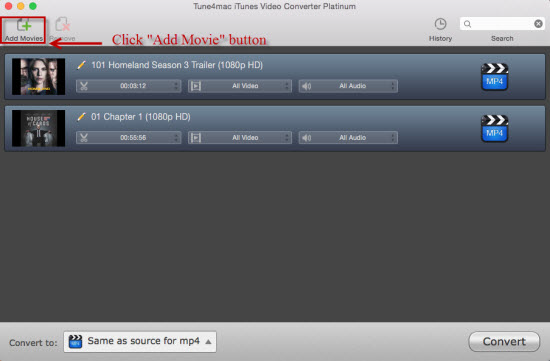 Step 2. Set Output Format
As the most popular video format, MP4 is also compatible with Google Nexus 6. Choose "Same as source for mp4" in "Profile" would make the M4V conversion in 20X speed.
Step 3. Start M4V to Google Nexus 6 Conversion
Last simple step is hitting "Convert" tag to begin the iTunes M4V rentals and purchases to Nexus 6 conversion. The powerful high-speed converting technology will not make you wait for too long at all.
What's New for Android 5.0 ?
"Lollipop is made for a world where moving throughout the day means interacting with a bunch of different screens--from phones and tablets to TVs". The latest version of Android 5.0 ("Lollipop") introduces a more colorful, minimalistic and transparent interface. It also gives developers more control over notifications displaying on devices. What makes users feel surprised is that Lollipop enables users to unlock their smartphones via Bluetooth. With the OS update, holders are able to control how their Apps affect battery life.
Related articles:

Backup iTunes HD Videos to Huawei Ascend Mate7

Convert iTunes M4V to MP4 for Apple iPhone 6/6 Plus

Steps to Make iTunes Video Perfectly Compatible with Plex

How to play iTunes movies on Xbox One? on PS4? Xbox One VS PS4