How to Remove DRM from M4V to Windows/Android Tablet
Mac DRM Removal for Video and Audio
Recently, Tablets becomes more and more popular, the main electric products company in the world released their own Tablet successively. Except Apple iPad Tablet, to Window/ Android Tablet users, how to watch iTunes M4V movies and TV shows become a problem.

That is because iTunes videos have DRM protection and you must use DRM Removal tool to erase it. Tune4Mac M4V DRM Removal is an powerful iTunes Video DRM Removal which can remove DRM from M4V by encoding the audio and video in a fast speed and quality. Tune4Mac M4V DRM Removal have Common Version and Platinum Version, the difference is platinum version can not only remove DRM from purchased M4V but also can remove DRM from Rental M4V and encode it with a special way so that you can store it with plain format forever. You can watch it in your Windows/Android Tablet anytime anywhere.
Besides, if you want to remove DRM from audio file (audiobook, a kind of audible book that usually own DRM protection), you can use Tune4Mac iTunes Audio Converter to remove DRM, which can remove DRM from iTunes Audiobook and Amazon Audible to mp3, aac, wav so that iTunes audio files can be transferred to Windows/Android Tablet to listen.
How to Remove DRM from M4V to Tablet With Tune4Mac M4V DRM Removal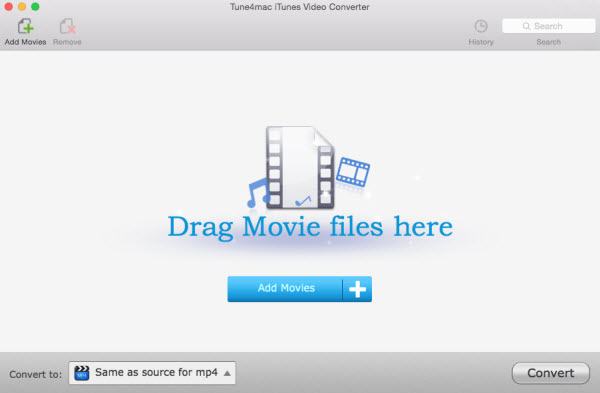 The image above is the interface of Tune4Mac M4V DRM Removal, it is also called Tune4Mac iTunes Video Converter since it can convert DRM protected M4V to many difference formats and devices. Now let's look how Tune4Mac M4V DRM Removal works.
Step 1: Download and install Tune4Mac M4V DRM Removal and open it. You will notice that iTunes will be launched automatically.
Note: If iTunes already launched before you open Tune4Mac M4V DRM Removal, please close iTunes first before opening Program and launch again. You can also use Safe Mode to launch iTunes when you can't launch iTunes successfully since some plug-in you might use.
Safe Mode: Please press "command"+"option" keys while launching Tune4Mac M4V DRM Removal. Please don't lose hold of these two keys until Itunes is launched successfully.
Step 2: Set Output Path and Output Format for DRM protected M4V movies. You can set the output format as "same as source for mp4" or " Customized MP4".
Step 3: Please press "Add" button to add DRM protected M4V that you need to convert to Tablet, then click "OK".
Step 4: Press "Convert" button on the top of Tune4Mac M4V DRM Removal, after finishing converting, you will find converted file in the output folder, when you can transfer them to Tablet with USB port directly.
DRM Removal for Windows
When we purchased a Tablet, the best benefit might be that we can watch movies on a little bigger screen without wire or some trouble things like that. Above content teach you how to remove DRM to Tablet on Mac, however, there is also a windows DRM Removal Tune4win M4V Converter Plus. This windows DRM Removal totally has one plus version, the function is the same as the platinum version of Tune4Mac M4V DRM Removal, which can convert both purchased and rental DRM protected M4V to Windows/Android Tablet. The using method is very easy and almost the the same as the using method of Tune4Mac M4V DRM Removal.
---
Then what? Try Tune4mac iTunes Video Converter Platinum now! To remove the conversion limitation of 1 minute free trial, please purchase the full version ( $69.95 $44.95).
Related articles:

Steps to transfer iTunes M4V videos to Nexus 7 for playback

How to Watch Movies Purchased or Rented from iTunes on Roku

How to play iTunes movies on Xbox One?

4 Tips to help you choose the best DRM M4V removal software