Roku 3 vs. Google Chromecast vs. Apple TV
When you are looking forward a new streaming box, Roku 3, Google Chromecast and Apple TV would remain your favorites among a bunch of streamers, which are most popular for the low prices that are all under $100 but let you get a good value for money. Each of the three most popular streaming boxes has its own pros and cons. Which one is the best? Which one can access to the most apps? This following article will help you to choose a right media streamer.
>> What is newly released streamer - Nexus Player?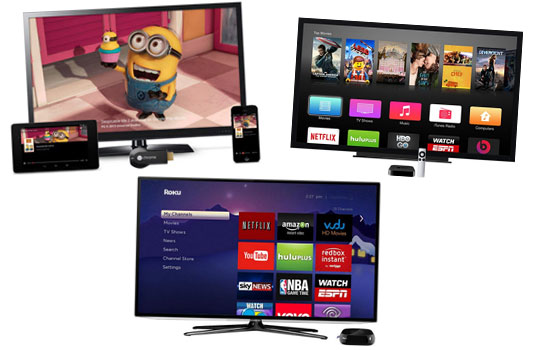 Roku 3
Pros: Roku 3 platform is an overwhelming winner when it comes to choices of channel source, providing more than 1,000 channels including Netflix, Amazon Instant, HBO Go, Hulu Plus, Pandora, Spotify, MLB.TV, Amazon Cloud Player and YouTube. No other streamer here offers the cross-platform search to find content for a title or keyword. Roku 3's perfect excellent interface and fast chip make it feel more quick and responsive than any other streaming box. And built-in headphone jack can mute your TV automatically when you are listening.
Cons: Roku 3 does not let you use the native apps on your smartphones, tablets or computers to stream personal digital collection as widely as Google Chromecaste and Apple TV. What's more, the streamer can't access to iTunes 12 rented and purchased M4V videos directly.
Outline: Roku 3 is the best streaming box with the most content sources, the most responsive performance and most quiet headphone jack. (Price: $99)
Google Chromecast
Pros: Google Chromecast becomes an instant hit with its hard to beat price $35, working with a growing number of apps, such as Netflix, HBO GO, YouTube, WatchESPN & Pandora. Unlike Roku 3, Apple TV or other media streamer that is compact, Chromecast is a sticker as small as thumb, which neatly hides into the HDMI port on your TV and is convenient to carry during traveling.
Cons: Google Chromecast's beta feature of screen mirroring does not always work as well as it boasts that Chromecast has the ability of projecting all contents from Chrome tab to TV perfectly. Its tiny size also brings a serious drawback—the need for excellent wi-fi. The lack of standard remote means everything would be controlled on your smartphone or tablet. So you need to keep your device at time and to unlock it once you want to pause or restart streaming. Less channel choices than Roku 3's and less tranditional onscreen user interface than Apple TV's are another two Achilles heels. Chromecast can only stream iTunes M4V videos under the help of a M4V to MP4 converter.
Outline: Google Chromecast is a cheap media sticker and a good travel companion to mirror content on small screen to bigger one. However, it is not fully featured as the third generation of Roku box. (Price: $35)
Apple TV
Pros: Apple TV is the only streaming box working perfectly with iTunes store, which lets you stream all purchased iTunes movies, TV shows and other M4V videos to your TV. It is available to accessing to Netflix, Hulu Plus, HBO Go, MLB.TV and other online media services. You can push music, video and photo from any other iOS devices and Mac with AirPlay, which also lets you access to some apps that don't supported natively by Apple TV box, like Pandora.
Cons: Apple TV seems to be designed for Mac users so that if you don't own other Apple device, it would not be cost-efficient to buy. And Apple TV still can't let you enjoy iTunes movies rented on other Apple devices, like iPad Air 2 or iPhone 6 Plus. What's more, the useful features of numerous apps, cross-platform search and remote headphone jack are so far from Apple TV.
Outline: Apple TV is an excellent iOS companion that works well with Apple ecosystem. And there are various rumors of new Apple TV would be released in the near future. Let us see what happens. (Price: $99)
Roku 3, Google Chromecast and Apple TV all received popular acclaim since they was landed on stores. Fully-featured Roku 3, tiny and cheap Chromecast or iOS-designed Apple TV, it is completely up to you to choose a right streamer. And if you are an iTunes movie fans, Tune4mac iTunes M4V Converter Platinum would be an indispensable helper for you to stream iTunes M4V movies, rentals and purchases, to Roku 3/Chromecast, and to transfer rented iTunes M4V to Apple TV from other Apple devices with no limitation.
---
Then what? Try Tune4mac iTunes Video Converter Platinum now! To remove the conversion limitation of 1 minute free trial, please purchase the full version ( $69.95 $44.95).
People who viewed this page are also interested in these articles:

Mirror iTunes movies and TV shows to HDTV with Chromecast or with Nexus Player?

Keep iTunes M4V rentals on iPad Air 2 and iPad mini 3

How to transfer iTunes M4V videos to Nexus 6 for playback

Best way to play iTunes DRM-protected M4V movies on Roku