Samsung Galaxy S6/Samsung Galaxy S6 Edge, Better or Worse?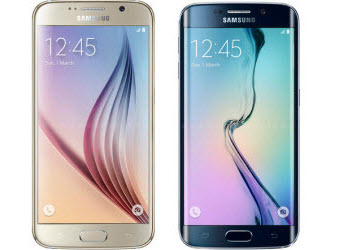 Samsung has unveiled the fraternal twins – Samsung Galaxy S6 and Samsung Galaxy S6 Edge on Mobile World Congress 2015, which finally discard the sleazy plastic build, appearing with an attractive fusion of sharp metal lines and plenty of glass design. And the S6 Edge competes for the flashpoint with two curved screens. The new phone pair makes a stir with new features, which would push Samsung to regain the top spot in global smartphones war, or, ill reverse the sagging sales? Get a move on! Check the following different reviews.

How good is the new Samsung Galaxy S6/S6 Edge?
Samsung Galaxy S6/S6 Edge quite meets users who pursue premium design and specs.
New metal and glass dress. The new phones run away from plastic construction adopted by the past 5-generation flagship smartphone. The upscale metals and glass would definitely be more exquisite and solid.
Android 5.0 and 5.1-inch screen. Both of them feature Android 5.0 Lollipop which brings genuine 64-bit architecture to sharply accelerate the start-up speeds of system and applications. And the 5.1-inch screen is much larger than iPhone 6 yet fits in a much higher resolution (2,560x1,440 pixels, a density of 577 ppi).
Wireless Charging. S6 and S6 Edge deliver built-in wireless charging support to provide a more convenient phone charging mode. What's more, the1.5X faster charging speed assuages the concern of battery fully.
Upgraded fingerprint scanning. Samsung has already put fingerprint scanner on several devices, however, the one for S6/S6 Edge is greater. It is a touch-based variant instead of erratic slide to protect personal information more effectively.
Camera launch quickly. The same home button now is featured with double-click to launch the camera in less than 1 second. Won't miss any important time. And the front and rear cameras support higher resolutions and f/1.9.

How bad is the new Samsung Galaxy S6/S6 Edge?
Samsung Galaxy S6/S6 Edge sacrifices what made the previous ones be different and capable in various smartphones combats.
Removable battery has gone. Samsung Galaxy S6 /S6 Edge is sealed completely so that the battery can not be drawn out any more, not to mention replacement. At the same time, it reflects one more problem that how to keep the phone without power source and battery charger momentarily. The battery of S6 is 2,550mAh, and S6 Edge gets a more capacity at 2,660mAh, which are obviously enough to shore up the 5.1-inch displays.
Waterproofing is lost. Samsung Galaxy S5 was waterproof up to IP67 standard. However, the S6 or S6 Edge is no longer waterproof now. Don't image that it still doesn't matter to have a dunk in the toilet. Just keep it dry.
External Micro-SD slot is dropped. Samsung offers S6/S6 Edge users 32, 64 or 128GB of storage with no any SD card supported. Users in the past could load videos, audios, photos, books and other files on card to avoid taking up the limited Internal storage, and which is more easily and quickly to transfer such files to other devices.
Which is you more inclined to stand for? Or if you have any other views, welcome to take part in our discussion to reveal much more comprehensive information of 2015 Samsung new flagship smartphone- Samsung Galaxy S6/S6 Edge.
People who viewed this page are also interested in these articles:

Transfer iTunes Video Library to Samsung Galaxy S5

Keep iTunes M4V rentals on iPhone 6 and iPhone 6 Plus

Best Media Streamer Review-Roku 3, Chromecast or Apple TV

Retain 5.1 Audio Track and Multi-language Subtitles from iTunes M4Vs