What Tune4mac do for you?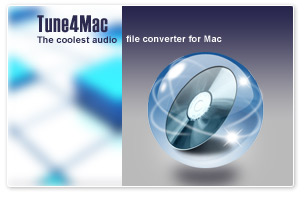 Since its beginning, Tune4Mac Inc., the software development company with expertise and experience in video and audio converting applications, has recognized the vital need for seamless access to videos and music in any formats across any portable devices - in a way that is transparent to any user's workflow. Since then, Tune4Mac is dedicated to developing the best and user-friendly video and audio software to provide solutions for users.
As Apple is gaining more fans around the world, we found that Mac users need multimedia software while there are limited solutions available. Now we are a professional Mac software team, and our products are vary from Mac iTunes DRM M4V converter, Mac iTunes audio Converter, Mac video Converter , Mac DVD Converter and Mac DVD Copy. Tune4mac will be with aim of users' satisfaction and keep developing better qualified and more user-friendly software for all multimedia fans.
Why do we use the "word" of "Tune4Mac"?
1. "Tune":
According to the dictionary, "tune", as a noun, is "a succession of musical sounds forming an air or melody, with or without the harmony accompanying it."
When used as a verb, "tune" means "to adjust (a musical instrument) to a correct or given standard of pitch (often fol. by up )." For Radio and Television, "Tune" means " to adjust (a receiving apparatus) so as to make it compatible in frequency with a transmitting apparatus whose signals are to be received."
2. "Mac":
A. –(noun Informal ) a mackintosh
B. MCINTOSH ( –noun " a variety of red apple that ripens in early autumn.")
3. "Tune4Mac" = "Tune for Mac"
Tune4Mac is a video and music conversion software for Apple "Mac". It can easily "tune" iTunes DRM M4V purchases or rentals videos to common video formats like MP4, AVI, MOV, FLV, MPEG and M4P music files, MP3 downloads or even purchased iTunes DRM protected M4P, M4B, M4A files to plain MP3, WMA or WAV formats ready for use on any computers or portable devices such as PSP, Zune, iPhone, iPod, iPad, Android phone, tablet, PSP, XBox, MP3 player, MP4 player etc.
Great! If you need "Tune" for Windows (XP/Vista/7/8), please refer to "Tune4Win" ("Tune" for "Windows").